RTTY is an excellent mode for stations operating with low power and/or with restrictions on antennas.
RTTY stands for "radio teletype". RTTY is based on the "Baudot code" or ITA-2 5 bit alphabet. Amateur radio transmissions nearly always use 45.45 Baud – 170HZ, but 75 Baud is growing in popularity.
WIKI
Background information: in 2014 most RTTY contesting is at a speed of 45.45 Baud.
Some contests use the higher (and much more efficient time-wise) speed of 75 Baud.
One decision you will have to make early on is whether you want to use AFSK or FSK for transmitting RTTY.
AFSK
when you send two audio tones (mark and space) from a TNC (TERMINAL NODE CONTROLLER) or Sound Card (From your PC) to the audio input of your transceiver/radio, either via the MIC input socket or accessory jack, basically getting the audio tones of RTTY into your transceiver to be transmitted.
FSK
keying, is a bit easier. All that is done is on/off keying from a TNC (TERMINAL NODE CONTROLLER) or Serial COM port on your PC. With MMTTY you can also use a parallel LPT port (PC) to transmit FSK to the FSK input of your transmitter.
Advantages and Disadvantages of AFSK/FSK
AFSK
When you use AFSK, make sure the audio coming from your TNC/Sound Card from your PC is at the correct level and once set up you do not need to keep adjusting it. Maintain this level.
If the audio is too high it will overdrive your transceiver and probably result in a distorted/rough RF signal or cause your radio to put out "image" signals across the band - not good.
Make sure that you do not have the speech processor turned on when transmitting AFSK RTTY.
This will also cause you problems with your transmitted signal.
The only real advantages to running AFSK are that you can get started quickly using this method because it's a simple audio to a soundcard (PC) input for receive and audio from a soundcard (PC) output to your transceiver for transmitting.
Using AFSK with some transceivers will not allow you to use narrow filters for receive in your transceiver when in USB or LSB.
Read your transceivers manual for RTTY set up.
It is common practice nowadays to specify 1500Hz as the Mark tone frequency.
This makes the Space frequency 170Hz higher i.e. 1670Hz.
The 'standard' tones for many years have been Mark = 2125Hz and Space = 2295Hz, but with modern radios the lower tones are perhaps in a flatter part of the filter pass band.
As long as the shift is 170Hz, most tone frequencies could work.
Most RTTY software (MMTTY, MMVARI, Two-Tone, FLdigi, Digipan) has an AFC facility which allows your receiver to track and decode stations who are calling slightly off-frequency.
You should switch AFC OFF under most conditions (both Run and S&P) or there is a danger of you and the other station following each other up or down the band.
Some software packages allow you to Lock your TX but use AFC for RX, which is ideal for a Running situation.
Keep AFC OFF until you are familiar with how it behaves.
FSK
With FSK it's a simple on/off keying into the FSK input on your transceiver, if it has one.
You don't need to worry about audio levels or whether or not you have the speech processor on.
With FSK you will be able to use the narrow filters fitted in your transceiver (if you have them fitted).
When switching modes or just press the RTTY button on your transceiver.
There is more work involved when using FSK.
If you use a sound card, you must have a spare serial COM port (or parallel LPT port) available on your PC in order to key both FSK and PTT.
If you use AFSK, you don't need this extra COM or LPT port and you can use VOX to key the radio.
If you use MMTTY or any other sound card program to generate AFSK and use VOX to key your transceiver, any other sound generated by your windows PC or any other PC OS, could be keyed by your transceiver and send that sound out over the air.
That would not be good.
To decode RTTY all you need to do is, connect a simple audio lead from your transceiver's AF output to your PC's sound card.
Now, you need a software package to decode it.
There are many around on the internet either included within PC log books or as standalone programmes.
The likelihood is that you already have one installed.
To see if you have the audio chain correct, try searching for a RTTY signal and open your RTTY decode software.
It should start to decode it on the screen.
Check your MIC input level or LINE IN level on your PC soundcard.
Check also that you have selected USB on your radio or in the software – if you decode gibberish, try the other sideband or the software's 'REV' button.
If you turn your AF right down to nothing when decoding RTTY (PC), nothing will be decoded.
Now Increase the AF level until it starts to decode the RTTY signal.
Once happy with this, either leave it or make a note, so next session on RTTY you can just reset your AF level to the same.
Once you have your PC decoding RTTY you can leave the audio lead in place.
Now the fun starts, transmitting RTTY.
It doesn't have to cost a lot of money to get on RTTY, but a simple homebrew transistor based key line can be made for less than £10.00 .
If you have chosen to use FSK then you can use a simple transistor based key line. Components are readily available over the counter.
PARTS LIST BELOW
PROJECT BOX
2 X 1K OHM RESISTORS
2 x 2N3904 TRANSISTORS OR SIMILAR
1 X DB9 PLUG FEMALE.
1 X USB TO SERIAL CONVERTER. FTDI CHIP.
CABLE TO MAKE SOME INTER CONNECTIONS.
SUITABLE PLUG/S FOR YOUR TRANSCEIVER.
2 X PHONO PLUGS OR SIMILAR, MALE. MONO.
2 X PHONO PLUGS OR SIMILAR, FEMALE. MONO.

If you are using MMTTY FSK keying you may need an add-on for transmitting RTTY.
Circuit diagram below -
Ground = Pin 5 DB9

DB9 PIN 3 - FSK TO RIG - RTTY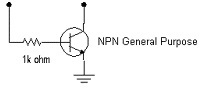 DB9 PIN 7 (RTS) - PTT TO RIG - RTTY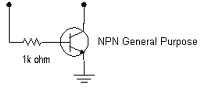 There are commercially available units to RX and TX RTTY, you may already have one.

Manufacturers include Microham, MFJ, G4ZLP, W3YY and Tigertronics.
These units are mixed mode and not solely for RTTY.
They will do many other digital modes, and some will also do DVK for voice and CW.

LINKS
G4ZLP  http://www.g4zlp.co.uk/
AA5AU  (With Permission) Dons pages on RTTY are very extensive and a very good "How To" on RTTY.
Take a look - http://aa5au.com/rtty
Microham  http://www.microham.com/
TIGERTRONICS  http://www.tigertronics.com/
MFJ  http://www.mfjenterprises.com/
This article is intended to be a primer and pointers not a full blown "HOW TO" for the ins and outs of RTTY.

There are many good articles around on the internet these days, above all, read your transceivers manual for RTTY and the decode software's help file if you have any issues.
Some pictures below of a homebrew RTTY interface using MMTTY with FSK keying with  EXTFS