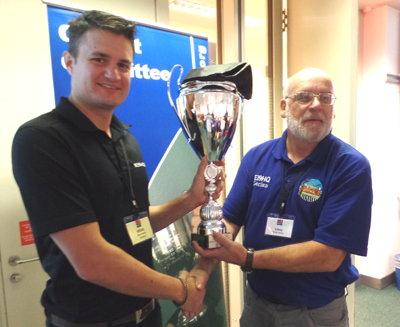 Welcome to the UKEICC
- the UK and Ireland Contest Club -
The UKEICC was formed in 2014 to promote the development of HF contesting in the UK and Ireland
and to encourage newcomers into HF contesting.
The UKEICC is run by a small but enthusiastic group
of keen British and Irish contesters.
Image shows Declan EI9HQ collecting the Kenwood Cup from Mark M0DXR
---
UK/EI DX CW Contest 22nd/23rd February 2020
Thank you for taking part in the 2020 UK/EI DX CW contest.
The UKEICC team hope you enjoyed the contest.
 
The *provisional* results are shown on the Results page. We are still processing some *problem* logfiles and will re-run the adjudication software later and update the results tables.
 
In the March 2019 UK/EI DX CW contest, we received 637 entries (up from 373 entries in 2018)
and over 70,000 QSOs were made in the 24 hours of the contest.

Each year, the prestigious Kenwood Cup is awarded to the leading UK/EI Unassisted entry,
and there are Plaques and Certificates for the winners (UK/EI, Eu, DX etc) of each section.
---
UKEICC 80m Contests 2019-20 series
The 80m Contests take place on the first Wednesday (SSB) and last Wednesday (CW) of each month
until the end of April, starting at 20:00z.

The next 80m contest is SSB on Wednesday 4th March.


---
UK/EI DX SSB Contest 31st Aug - 1st Sept 2019
Thanks to everyone who took part in this contest. Congratulations to Andy G1A (M0NKR) on winning the Kenwood SSB Cup as the UK/EI Unassisted Single-Op station with the highest score. Also to Neil G6MC in second place and all the other section winners. See the Results for full details....
---
Membership is free and open to anyone -
sorry our Membership sign-up is offline at the moment..pse QRX.
All your personal data is securely stored on encrypted hard-drives and will not be available to any other individuals or organisations.
---