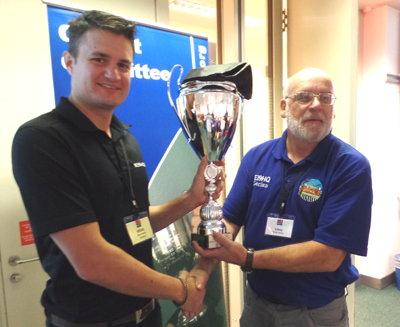 Welcome to the UKEICC
- the UK and Ireland Contest Club -
The UKEICC was formed in 2014 to promote the development of HF contesting in the UK and Ireland
and to encourage newcomers into HF contesting.
The UKEICC is run by a small but enthusiastic group
of keen British and Irish contesters.
Image shows Declan EI9HQ collecting the Kenwood Cup from Mark M0DXR
---
80m Summer Series April 2020 on....
4th April 2020 - NEW - starting soon - 80m Summer Series contests.

Full Rules and further details will be online here as soon as possible.

First event - Wednesday 8th April 2020 - 1800-1900z - SSB

---
UKEICC 80m Contests 2019-20 series
The 80m Contests take place on the first Wednesday (SSB) and last Wednesday (CW) of each month
until the end of April, starting at 20:00z.

The next 80m contest is CW, on Wednesday 29th April which is the last in the current series.


---
UK/EI DX CW Contest 22nd/23rd February 2020
Thank you for taking part in the 2020 UK/EI DX CW contest.
The UKEICC team hope you enjoyed the contest.
 
The Finalised results are now shown on the Results page. UBN files have been e-mailed to entrants (sorry for the incorrect e-mail Subject line)
 
[In the March 2019 UK/EI DX CW contest, we received 637 entries (up from 373 entries in 2018)
and over 70,000 QSOs were made in the 24 hours of the contest.]

Each year, the prestigious Kenwood Cup is awarded to the leading UK/EI Unassisted entry,
and there are Plaques and Certificates for the winners (UK/EI, Eu, DX etc) of each section.
---
Membership is free and open to anyone -
sorry our Membership sign-up is offline at the moment..pse QRX.
All your personal data is securely stored on encrypted hard-drives and will not be available to any other individuals or organisations.
---