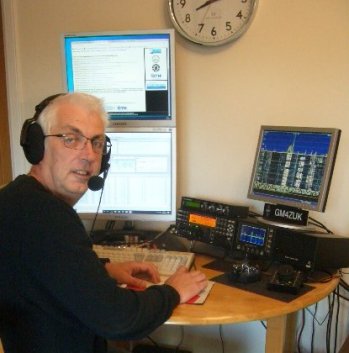 Allan GM4ZUK / GM4Z in his shack near Aberdeen
Welcome to the UKEICC
- the UK and Ireland Contest Club -
The UKEICC was formed in 2014 to promote the development of HF contesting in the UK and Ireland and to encourage newcomers into HF contesting.

The UKEICC is run by a small but enthusiastic group of keen British and Irish contesters.
---
80m Summer Series - 2020
80m Summer Series contests - one hour contests with 6-character (4-character on FT4) grid locator exchange. Click on the Summer 80m pull down menu above for the Rules - which have info about suitable software to use for these new contests.

Next contest - Thursday 4th June 2020 - 1800-1900z - 80m - CW

In the SSB and CW events, N1MM+ users - please select the correct contest UDC file UKEISS_VHF.udc (*not* UKEI80_VHF.udc)

Provisional, then Final, Results are online here after each contest - click on the pull down menu above.

---
UKEICC 80m Contests 2019-20 series
Thanks for entering the final contest of this UKEICC 80m series on Wed.29th April. The finalised results are now online - click on the pulldown menu 80M CONTESTS above.

The 2020-21 80m contest series will start on Wed.6th September on SSB. 20-21z 6-character locator exchange.

Please consider taking part in our Summer Series contests - details above
---
UK/EI DX CW Contest 22nd/23rd February 2020
Thank you for taking part in the 2020 UK/EI DX CW contest. The UKEICC team hope you enjoyed the contest. We were pleased to receive nearly 700 entries
 
The Finalised results are shown on the Results page. Each year, the prestigious Kenwood Cup is awarded to the leading UK/EI Unassisted entry, and there are Plaques and Certificates for the winners (UK/EI, Eu, DX etc) of each section.
---
Membership is free and open to anyone -
sorry our Membership sign-up is offline at the moment..pse QRX.
All your personal data is securely stored on encrypted hard-drives and will not be available to any other individuals or organisations.
---