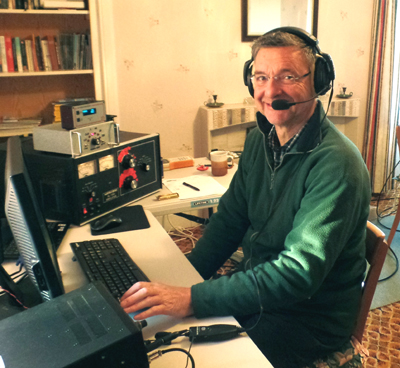 Welcome to the UKEICC
- the UK and Ireland Contest Club -
The UKEICC was formed in 2014 to promote the development of HF contesting in the UK and Ireland
and to encourage newcomers into HF contesting.
The UKEICC is run by a small but enthusiastic group
of keen British and Irish contesters.
Image shows Keith GM4YXI operating GS7V from Shetland in CQ WW SSB 2018
---
UK/EI DX CW Contest 23-24th March 2019
The support of European, DX, UK and EI contesters for this UKEICC event is much appreciated. We received 637 entries this year (2018 = 373 entries), and over 70000 QSOs were made in the 24 hours of the contest.

Congratulations to Yuri RG9A as Overall Winner, also to the EI7M Multi-op team (Jim EI3DP, Dave EI4BZ and Jerry EI6BT) in second place, and to Stewart GW0ETF/GW4J on winning the Kenwood Cup as the leading UK/EI Unassisted entry.
---
UK/EI DX SSB Contest 31st Aug - 1st Sept 2019
Thanks to everyone who took part in this contest. Congratulations to Andy G1A (M0NKR) on winning the Kenwood SSB Cup as the UK/EI Unassisted Single-Op station with the highest score. Also to Neil G6MC in second place and all the other section winners. See the Results for full details....
---
UKEICC 80m Contests 2019-20 series
Next 80m contest - 20:00z on Wednesday 1st January 2020 - SSB
---
Membership is free and open to anyone -
sorry our Membership sign-up is offline at the moment..pse QRX.
All your personal data is securely stored on encrypted hard-drives and will not be available to any other individuals or organisations.
---